Process
METAL COMPONENT FABRICATION
Since 1978, Franklin Display Group has been an industry-leading fabricator of custom wire, sheet metal, and tubing components. Our in-house team of metal work specialists uses state-of-the-art technology and processes to design and fabricate high-quality metal parts to help OEMs across a variety of applications produce quality products that are durable and compliant with industry standards. 
Franklin Display Materials
Franklin's metal fabrication specialists have the experience and equipment to fabricate a range of materials including:
Mild steel
Stainless steel
Pre-galvanized steel
Aluminum
Franklin Display Capabilities
Our primary capabilities include:
Wire: Straightening and cutting, 2D and 3D CNC bending, panel welding, air bending, and crimping 
Sheet metal: Laser cutting, CNC turret punching, CNC press breaking, welding, and shearing
Tubing: Laser cutting, saw cutting, bending, welding, and swaging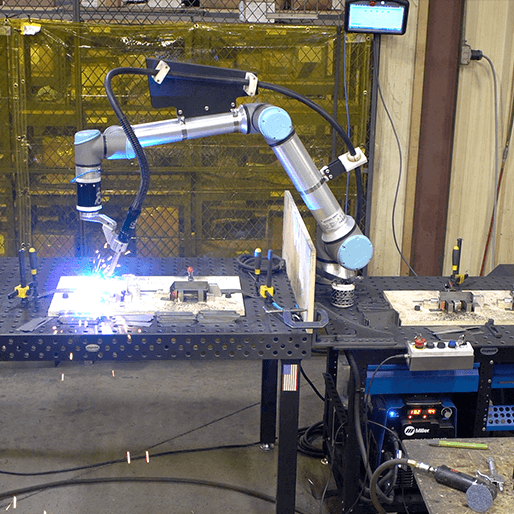 ADDITIONAL METAL FABRICATION SERVICES
With two production facilities totaling more than 200,000 square feet of space, we provide end-to-end metal fabrication services in order to be your go-to provider for custom metal work. Support services for our wire, sheet metal, and tubing fabrication include:
Welding: MIG/TIG, resistance, and capacitive discharge (CD)
Finishing: Powder-coating, plating, and vinyl dip
Assembly: Permanent fasteners, non-permanent fasteners, complex assemblies, and customer-supplied items
Logistics: Packaging, sub-packs, truckload/LTL, and single-package to location
DOWNLOAD THIS RESOURCE TO LEARN MORE ABOUT OUR METAL FABRICATION SPECIFICATIONS AND CAPABILITIES
Partnering with Franklin Display Group for your custom metal fabrication needs ensures a final product that is competitively priced, delivered on time, and engineered to last. Tell us about your metal fabrication needs, and we'll connect with you on how we can help.